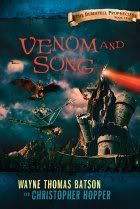 Venom and Song The Berinfell Prophecies Series - Book Two
By Wayne Thomas Batson and Christopher Hopper
I picked this book to review from the list thinking that it would be fun to read a fiction novel for a change. I had not read the first book in the series, so I hoped that I could quickly catch up. The book includes a character list in the front, so at first I did a lot of flipping back and forth until I felt I had the hang of who was who. The book opens with the Seven Lords just arriving on Allyra through a portal from Earth. The Lords are 13 years old, and the current events are pretty life-changing from them. The book follows their lives as they train and eventually bring war against the evil Spider King who is bent on destroying the race of Elves on the planet Allrya.
I was captivated by the story, which is targeted towards intermediate readers (young teens). I found the storyline to be very original and thought-provoking. I finished the book in about two days, which is saying a lot. I have high praise for the authors and their writing style. The story flowed rather seamlessly. I wouldn't dare compare this book to the Lord of the Rings, but I do dare compare it to Eragon, and I must say the authors obviously write with more maturity and the book is much more enjoyable all the way to the end.
Fantasy is a dangerous genre to read and to write. Mitch picked up book one from the library for me (I recommend starting there--it helps everything in book two make much more sense). Micah, he, and I have all read it and now Eden is reading it. Eden said to me today, "Mom, when I'm reading the book it feels like I am really there." That hit the nail on the head for me--the danger in fantasy is when you get lost in it and it starts to become your reality. And this book is so well written that yes, you can get lost in it, or expect your young teen to. I recommend this book series with reservations--if your teen can handle fantasy, or if you are a looking to a good alternative by Christian authors, then you should definitely check The Berinfell Prophecies out! I sincerely hope the authors receive a contract to write book 3--I can't wait to read what happens next.
Disclosure of Material Connection: I received this book free from Thomas Nelson Publishers as part of their BookSneeze.com <http://BookSneeze.com> book review bloggers program. I was not required to write a positive review. The opinions I have expressed are my own. I am disclosing this in accordance with the Federal Trade Commission's 16 CFR, Part 255 <http://www.access.gpo.gov/nara/cfr/waisidx_03/16cfr255_03.html> : "Guides Concerning the Use of Endorsements and Testimonials in Advertising."