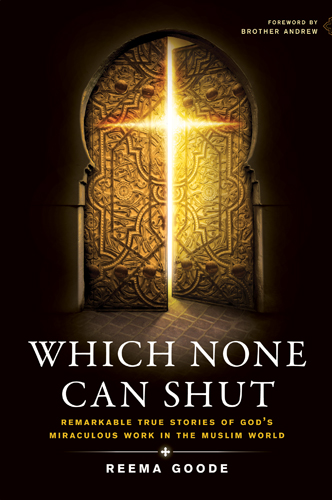 I devoured this new book, "
Which None Can Shut
", by Reema Goode. (Names in the book have been changed for security reasons). Reema and her husband, Mike, are missionaries in an Arab country. Their country is listed as a "restricted nation" by
Voice of the Martyrs
. According to VOM, "this includes countries where government policy or practice prevents Christians from obtaining Bibles or other Christian literature. Also included are countries with government sanctioned circumstances or anti-Christian laws that lead to Christians being harassed, imprisoned, killed or deprived of possessions or liberties because of their witness." So there you have the same background that I had for Reema's missionary calling to this Muslim nation! And with that, I cracked open the book.
I was pleasantly surprised by the joy, the hope, and the encouragement I was met with immediately. Reema points out that often what we see in the media about the Islamic World seems quite depressing. It is easy to question if God is even working there or if he hears the prayers of Christians around the world. She writes that with this book, she wants to zoom in on their little community in their small town and show the "incredibly creative, diverse, unexpected, and thrilling ways in which God is reaching [their] neighbors with the Gospel of Jesus Christ." And the result is a wonderful collection of uplifting stories that will motivate and challenge your heart. Reema doesn't negate the danger. She writes, "we do not deny that the Muslim World is often a dangerous place. Where we live, leading a local to Christ is a punishable crime." Yet there is a whole chapter devoted to the blessings of raising their children in this country as well (because you know my momma-heart was asking the hard questions of how you could raise children under that threat)! She writes honestly about fears that she has experienced, but it is always contrasted with the hope she has in Christ--she always writes about how God has delivered her from those fears (or from dangerous situations). I read one account of how Reema confronted a man who was verbally attacking her, she said, "All my life I've believed the Bible is God's Word. I've read it many times and never found anything wrong in it. Everything it prophesies comes true. The principles in it work...I've actually seen answers to my prayers." I thought to myself, "
Have I seen answers to my prayers? Can I write an account of the work and miracles that God is doing in my life? Could I also boldly stand up for my faith?
"
The book is not long, only 165 pages, and the chapters are easily digestible. The stories are well-written and enjoyable. I laughed out loud at times and even brushed a way a tear of joy at one point. The stirring in my heart could not be denied and I am thankful for this opportunity to share the book with you--I want to SHOUT for JOY from my tiny corner of the blogosphere that GOD IS AT WORK in Arabia! Read the book and rejoice with Reema and Mike and other believers. Find a way to support the missionaries there in prayer and financially. Who knows how God may use YOU?!
I received a complimentary copy of this book from Tyndale House Publishers for review. I was not asked to write a positive review. The opinions I have expressed are my own.