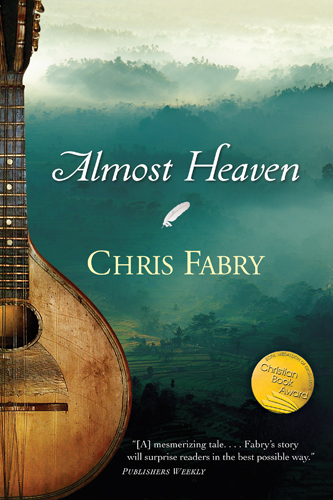 I just finished reading
Almost Heaven
by Chris Fabry. I jumped at the chance to review this book. I have already read and enjoyed his novels
Dogwood
and
June Bug
.
Chris Fabry is one talented man. You may have heard his voice hosting a radio show for Moody or for Focus on the Family. Or maybe in recent years you have heard him on his own show,
Chris Fabry Live
. Or perhaps you may connect with his family (he has 9 children) through
his blog
or through his wife
Andrea's blog
. They have their own dramatic story to tell as their family recovers from toxic mold exposure. Oh, but this review is about his latest book, not about the author himself. I digress!
Chris has also had a lot of experience writing children's novels, but to embark on a journey to write adult fiction novels was a dream of his. From that dream came
Dogwood
. I'm so glad it did. Then along came little
June Bug
and now we have
Almost Heaven.
These books are minorly intertwined, however they are not sequels. You can read them in any order you'd like.
Almost Heaven
is set in the small community of Dogwood, West Virginia. In the "hills" of the Appalachian Mountains. The story is that of the life of a seemingly unimportant individual, Billy Allman. The story begins on his 10th birthday and follows him throughout his life. His crowning achievement is starting his own Bluegrass Gospel Radio station. Or is that the greatest thing he has done? It seems like everything else he touches has gone wrong. Billy is also assigned an angel, who at times in the story interjects with his own observations. Why is a warrior angel assigned to protect the life of this unimportant individual in the no-name town of Dogwood?
Billy clings to his faith throughout his difficult journey. He often quotes scripture and explains well how he trusts in God. The angel also quotes scripture and demonstrates his trust in God. He challenges us to remember that we cannot see now heavenly things, that it is like a veil that is clouding our view, but that some day the veil will be torn back and then we will fully see. This book is not just a feel-good story. There is mystery, suspense, and some heavy difficulties to work through (strong reminder: it is an
adult
novel. While not overly descriptive, some scenes in the book are not going to be suitable for teens, and definitely not for children. There's nothing here worse than I have read in the news, but even the news at times is just too much.). The angel's part in the story thrusts me back into my favorite Frank Peretti novels. I know that in today's world many of us "conservatives" struggle with thoughts of the spiritual realm, angels, demons, etc, however it IS real, the Bible DOES talk about it, and Chris handles the subject very tenderly in this novel. It is an outstanding reminder of the help we have on a different plane, and how important prayer and intercession are.
I can relate so much to this story. I grew up in "the hills" of the Appalachian Mountains in Southwest Virginia. I recognize and understand the people that Chris writes about. The story is believable to the point that I feel like I can get in my car and drive to Dogwood. Reading about Billy and his mandolin just about had me running to the closet to get out my Dad's mandolin if not to play, only to touch it. I can't wait for the day I can put this beautiful instrument into the hands of one of my children. This story is compelling, uplifting, and encouraging. I only have one complaint--I read it much too quickly. Don't be tempted to make the same mistake as I did. Take time to savor the stages of life that Billy goes through. Meditate on the scriptures quoted, as they are certainly chosen to help you as you walk your journey also.
By the way, 'Appalachian' is pronounced ap-pul-a-chin. Make sure you say that right--no more of the "Apple-Ay-Shun" stuff.
I received this book free from the publisher through the Tyndale House Publishers book review blogger program. I was not required to write a positive review. The opinions I have expressed are my own.