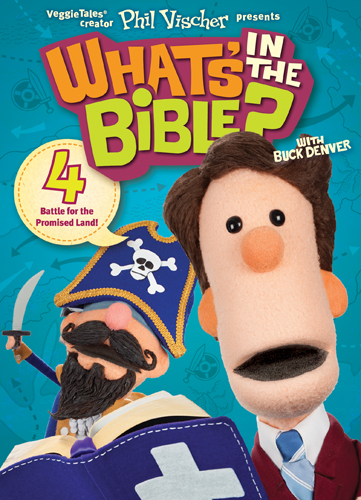 This just might be one of my favorite review experiences ever. I was selected by Tyndale House Publishers to not only review the newest release of
What's In the Bible? Battle for the Promised Land
, but I also received a gift certificate to give away a copy of this DVD on my blog! Read on for details how you can be entered in a drawing to receive a free copy of this DVD.
What's In the Bible?
is a series created by Phil Vischer (widely known as the creator of Veggie Tales), but this is no simple spin-off from Veggie Tales. In the video that I post below you may begin to get some idea that there is more to this video than you would expect. Fun, cute, entertaining, but also
educational
. That's a pretty big bill to fill, and Phil Vischer does it.
We sat down to watch this as a family. I wanted to have the response of everyone in my house age 34 down to age 3. The videos (there are 2 segments on this DVD) are fast-paced and cover a lot of ground in the Old Testament (this video covers Joshua, Judges, and Ruth). This meant that there was never a dull moment. Some of the information moves so quickly that the younger kids can not possibly pick it all up (especially the 3 yo), but they certainly are absorbing
some
of it. And since we own the DVD, that means we can watch it again in the future. Repetition will encourage memorization, and the songs and characters help tremendously. The fast pace lends itself well to the intended age group (elementary students), but also held the attention of my tween, teen, and us adults. The characters in the video tackle questions such as "Did God want people to die?" (referring to God's command to the Israelites to kill all of the people living in the land of Canaan) without shying away. This carries the material of the DVD beyond well-known Bible stories and into issues requiring deeper thought. Also keeping the material moving at a fast pace allows kids to get a good overview of the entire Bible. Frequent reminders are given to how each story in the Bible points to God's plan to redeem His people through His Son, Jesus Christ. Excellent for the whole family!
I asked Caleb, my 9 year old, to write his own review of this DVD. Here is his response:
What did you learn from this video?
I learned how the Israelites got into the promised land. I learned that the Promised Land was named Canaan. I also learned that there was only one woman judge and Samson was the last judge. I learned that Ruth is related to King David and King David is one of the great-great-great----grandfathers of Jesus. So the family line goes all the way down to Jesus.
Is it entertaining?
Yes, very entertaining. Especially when the pirate starts popping up in the hot air balloon and singing away. And the theme song is pretty silly (in a good way).
Would you watch the rest of the series?
Yeah. I would love to watch more.
Who is your favorite character?
I don't know, probably the pirate.
On that note, here he is:
Visit
http://www.youtube.com/user/whatsinthebible
to watch more fun videos!
Also be sure to check out the websites for
What's In the Bible
and/or
Tyndale House Publishers
for more information.
To be entered to win the DVD gift certificate, simply leave a comment on my blog. Please make sure I know how to contact you (either through your blogger profile, or check back to see if you won). I will draw names from a hat (with help) the old-fashioned way, on October 27, 2010. I will contact the winner for a mailing address. I will mail you a certificate that you may use to redeem for a free copy of the DVD.
I received a complimentary copy of the DVD from Tyndale House Publishers and a free gift certificate. I was not required to write a positive review. The thoughts and opinions I have expressed are my own.