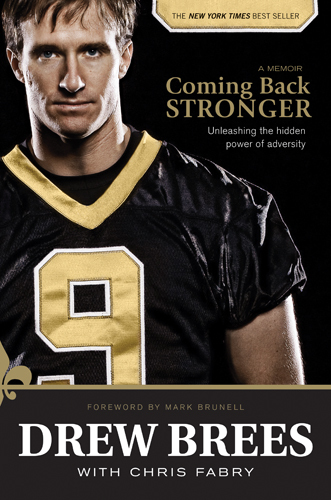 As you wait for Super Bowl Sunday, February 6, 2011, to roll around, you might want to consider picking up a copy of
Coming Back Stronger: Unleashing the Hidden Power of Adversity
by Drew Brees with Chris Fabry. This memoir has made the New York Times best seller list, and it's easy to see why.
I have to admit I'm not a football fan. I picked this book for review quite by accident. I meant to click for more info and clicked instead to have the book shipped to me. :) It was a funny mistake. I thought to myself, "Well, it will just increase my stamina." When it arrived and I noticed for the first time Chris Fabry's name on the front, I began to be more optimistic. Micah (my 13 year old) picked it up first and began reading it. Before long he was reassuring me that I would enjoy the book.
If you know something of football, then you know that Drew Brees is quarterback (and you probably also know what the quarterback does) for the New Orleans Saints, who won the Super Bowl in 2010. You may also know that in 2005 he suffered a devastating shoulder injury (his throwing shoulder) while playing for the San Diego Chargers. This is the story of his life, with a focus on how adversity brought him to where he is today. He is careful to give credit to our Creator and talk about how God has blessed and directed his life through it all.
If you are more like me and don't pay much attention to football, then some parts of the book may go over your head. But not much. I do enjoy memoirs (I didn't realize how much until I started reading). There is something "fun" about reading and knowing that this is a real person and this really happened. Perhaps the turning point for me when I was really sold on reading was after I had finished the prologue, which described in slow motion his 2005 injury. I was discussing it with Mitch. Within a few minutes, he had pulled up a youtube video of the play. I instantly connected. It was driven home to me how real this was, and it sucked me in to reading the rest of the book. Micah was right, I was enjoying it!
The book flows seamlessly and is engaging. It is a light read, and is enjoyable (maybe more enjoyable than watching the Minnesota Vikings play this year!) even to a non-football fan. If you'd like to sink your teeth into the first chapter (including the foreword by Mark Brunell and the fantastic prologue) for free, there is a pdf provided by Tyndale House Publishers
here
.
Here is a video of an interview Drew did on Sports Center about the book:
I received a complimentary copy of this book from Tyndale House book publishers through their blogger program. I was not required to write a positive review, my thoughts and comments are my own.