New years bring resolutions. Many people resolve each year to lose weight, exercise more, get a better job, pay down debt, quit smoking, save money, and so on. Many Christians resolve to read their Bible more and may even subscribe to a reading plan. Our church offers a
church-wide Bible reading plan
. There's something that joins the body of our local church together just knowing others are reading on the same plan!
Personally, I fail miserably at New Year's Resolutions. :) Do most people? Sometimes long-term change has to come from deep inside and it doesn't always come to areas where I want it to. As I reflect on 2010, I accomplished several things that I had no idea as I set out that I would accomplish! For one, I read a TON of books. (Ok, not literally 2,000 pounds, but many more books than I ever imagined I would read in a year). Joining blogging programs for various publishers has been one healthy choice I made last year. My reading level, speed, and comprehension has increased. It feels good to flex that part of my brain. I didn't make any formal resolutions for 2011, but I cautiously have a few goals in mind.
Did you make a resolution to read your Bible more? Even if you didn't, I have a wonderful resource to offer that will certainly encourage you to read!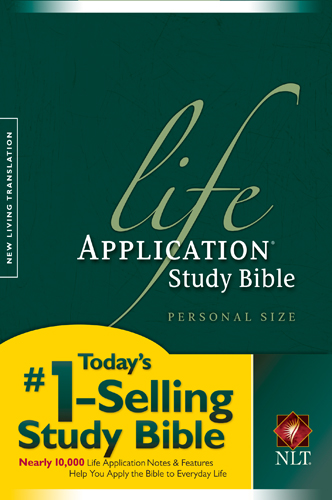 Tyndale House Publishers has given me a certificate to give away on my blog--for free--for a
Life Application Study Bible, Soft Cover, New Living Translation
. The publisher writes:
"Today's #1-selling study Bible—the Life Application Study Bible—is now available in several best-selling personal-size bindings. The Life Application Study Bible is updated and expanded with over 300 new Life Application notes, nearly 350 note revisions, 16 new personality profiles, updated charts, and a Christian Worker's Resource."
The certificate may be redeemed at your local Christian bookstore. If no bookstore is available, you can order directly from Tyndale (instructions are on the back of the certificate). Expires May 1, 2011.
(Bloggers who participate in Tyndale's book review program, Tyndale website employees, and their families are not eligible to redeem the certificate.)
To enter to win, leave a comment telling me your favorite New Year's Resolution or past year's accomplishment. How do you manage to keep your resolutions even after January has faded? I will draw names from a hat on Saturday, January 29, 2011.
The winner is Tara! We put all the names in a basket and Caleb drew for me. I wished I had 6 Bibles to give away because that's how many kids wanted to draw a name from the bowl. Ahhhh...hopefully there will be more to come!