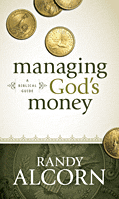 Before I get started on this review, I want to take a moment to say how grateful I am for the opportunity to review books from publishers. I have read so many more books than I would have, and I have learned much. I also feel I have grown as a writer. Plus, I've had a lot of fun doing it. People often ask me how I find time. It's easy--I don't watch t.v. That's pretty much it.
I began reading
Managing God's Money
by Randy Alcorn before we left on our big vacation, and I finished it within the first few hours of being on the road. In some ways, this was a very easy book to read. It's not too long, the chapters are organized well, the concepts are easy to grasp. In some ways, it was a difficult book to read--especially when I felt challenged to look at how I handle money. I could be reading along and say, "Oh good, I already do that." Easy part. Then turn the page and feel, "Oh, I don't do that. I don't like that at all. He's saying I should change." Hard part. Temptation to put the book down and stop reading. I found during these times it was good to keep pressing on. And also to acknowledge my shortcomings and pray for a change of heart.
I have read many books by Christian authors on handling money. I felt prompted to read this book, but I asked, "Why?" We've read Larry Burkett, we did the
Dave Ramsey
course, and even a small-group study by
Crown Financial Ministries
, why did I feel like I should read another book? I pulled up the book on Amazon.com and looked at the table of contents (using the "Look Inside" feature). That right there motivated me to pick up the book. Think of this as a "prequel" to Dave Ramsey, Larry Burkett, and the others. It deals with a heart focus more comprehensively. The book answers questions that I have wrestled with even after going through other courses.
The table of contents really is helpful in knowing what the book contains. The book is divided into 6 sections. Under each chapter title lists a set of questions that the particular chapter tackles. Such as Chapter 1: Are we faithful in how we handle money? Alcorn says in the beginning that the chapters can be read in any order that you want, however each builds on the previous. That is true. I recommend reading the book straight through once. Then you can use the table of contents to easily find your way back to parts you need to reread later.
One of my favorite sections was on giving (or tithing). I was impressed with the care and gentleness of how Alcorn handled this sensitive subject, acknowledging that many in the church debate the theology behind giving and tithing. Of particular interest to me was the section on teaching our children to be good stewards of their money. The answer is easier than you think. But you will want to read the section on giving first.
I highly recommend this book, even if you weren't exactly looking for a book on money. Some very good information is to be found here, that is foundational to living a Christ-centered life. If some of it is difficult to swallow, well, that's a good sign that you have found an area to work on! At only $5.99 for a copy from Amazon.com, it's a good investment.
I received a complimentary copy of this book from Tyndale House Publishers. I was not required to write a positive review. My thoughts and opinions are my own.